Following the installation of our new jetty in April, our local newspaper, the Helensburgh Advertiser, recently ran an article featuring the jetty.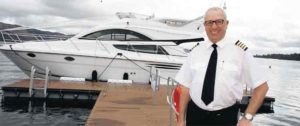 A hotel hopes to maximise on passing, sailing and even flying trade after installing a new jetty on the banks of Loch Lomond.
The dock, situated near the Lodge on Loch Lomond, was installed in just five days in April, and the hotel is already expecting the new feature to be a draw for passing cruisers and wedding parties.
A spokeswomen for the Lodge on Loch Lomond told Advertiser Outdoors: "The jetty now opens up lots of opportunities not only to diner and guests arriving by boat, we are also hoping to introduce a new seaplane experience for the summer.
"It provides us with the most amazing photo backdrop for our weddings and we are also planning the perfect proposal table when you can surprise your partner with a magical evening of dinner, music and stunning setting 40 metres out into the loch to pop the question.
"It will also allow our leisure guests to stroll out and straight onto the loch taking advantage of a cruise on a luxury yacht or something more exhilarating like a speedboat trip to our sister hotel or canoe adventure to one of the local islands.
"The possibilities are endless and we hope this great asset will further diversify the appeal of the hotel."
The jetty – supplied by Versadock International Ltd – took five days to build after arriving into the country.