Tie The Knot Scotland featuring the Lodge on Loch Lomond
Be sure to check out the latest issue of Tie The Knot Scotlands May/June 2019 edition that features the Lodge on Loch Lomond on Venue Timlines.
Excerpt: Planning a wedding is a massive task. How do you know if you're doing it right? Rosie Patrick grills the experts, who reveal it's all in the timing.
As you might imagine, we get asked a lot of questions here at TTKS. Do you have to throw an engagement party? (Not if you don't want to.) How do I know if I've picked the right photographer? (You'll feel a connection.) Are sample sales really the best way to save money on the gown? (Are you kidding me? Landing a designer dress for half the price is the holy grail of shopping.) But the top query, the one that's asked most often, is this: What happens when?
Read more below - The article features commentary from the Lodge's very own Sandra Cunningham.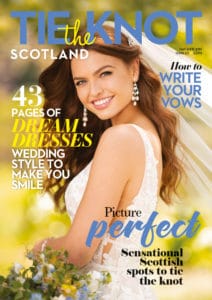 Magazine website and source: https://tietheknot.scot/