Tom Weir's Loch Lomond Wonderland
Thomas "Tom" Weir MBE was a Scottish climber, author and broadcaster. He was best known for his long-running television series Weir's Way.
We wanted honour and share the below PDF booklet called Tom Weir's Loch Lomond Wonderland in memory of Tom. Please enjoy it courtesy of Friends of Loch Lomond and the Trossachs www.lochlomondtrossachs.org.uk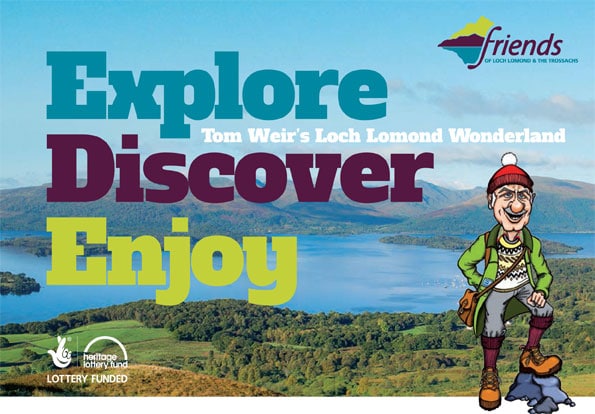 Tom Weir's Loch Lomond Wonderland Booklet PDF
An Introduction
Welcome to 'Tom Weir's Loch Lomond Wonderland' - a very special place that for many years was the home of Tom Weir, Scotland's most loved mountain man and one of Scotland's greatest storytellers and conservationists. Through his writings and broadcasts Tom introduced several generations to the wonders of Loch Lomond and other parts of Scotland.
In this publication we share some of Tom's evocative insights into the rich and diverse cultural and natural heritage of Loch Lomond, which he
wrote so passionately about in the Scots Magazine 50 years ago. We also share some of the great work produced by 300 children from the 6 primary schools around Loch Lomond who have captured what they consider to be some of the loch's current day wonders in photographs, drawings, poems, paintings and short stories.
Through their work it is clear to see that the children love living in the Loch Lomond area and are as passionate as Tom was about the scenery, history, wildlife and nature of this wonderland. We hope this booklet will encourage you to explore, discover and enjoy 'Tom Weir's Loch Lomond Wonderland' and also support the ongoing efforts of the Friends of Loch Lomond & The Trossachs. It is the only independent conservation charity working to protect, promote and provide a range of services and projects, with the help of local businesses and volunteers, for the benefit of people and nature in the Loch Lomond area and the wider National Park. You can support the Friends by becoming a member, visit: www.lochlomondtrossachs.org.uk
James Fraser, Chairman
Friends of Loch Lomond & The Trossachs
June 2016
'From our eyrie on the MacGregor shore we feel as free
as Rob himself, wage slaves no longer, but with hearts
light as the blue sky as we set off on the high contouring
path in a scent of bluebells and rowan blossom.'
Tom Weir - August, 1976