Watersports Activities at Lodge on Loch Lomond
The jetty at Lodge on Loch Lomond provides easy access to Loch Lomond and is currently in the water all year round.  (Access during the winter months is typically not possible due to the rising water level and the jetty can sometimes become cut off from the beach).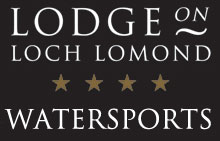 Watersports are available from Luss Beach from May to September typically and we recommend contacting our partners direct for availability and booking:
Loch Lomond Leisure offer Watersports situated on Luss Beach just next to the hotel.
Nestled on Luss Beach amidst the breathtaking beauty of Loch Lomond, one of Scotland's most iconic and captivating natural wonders, Loch Lomond Leisure Watersports offers a thrilling and immersive experience for water sports enthusiasts of all levels. Whether you're a seasoned adventurer or a first-time visitor, the range of water-based activities promises excitement, relaxation, and the chance to explore the remarkable Loch Lomond like never before.
Activities on offer
Loch Lomond Leisure Watersports is your gateway to a world of aquatic adventures. Here are just a few of the exciting activities on offer:
Jet Skiing: Feel the rush of the wind and the splash of the water as you skim across the waves on one of our high-powered jet skis. With the stunning backdrop of Loch Lomond, this is an experience you'll never forget.
Kayaking and Canoeing: Paddle at your own pace, exploring the tranquil bays and hidden inlets of Loch Lomond. It's the perfect way to connect with nature and experience the serenity of the Scottish wilderness.
Wakeboarding and Waterskiing: Challenge yourself with some of the most thrilling water sports around. Whether you're a seasoned pro or a beginner, our experienced instructors will ensure you have a safe and exhilarating time on the water.
Stand-Up Paddleboarding (SUP): Try this fantastic full-body workout while taking in the stunning scenery. Our calm, clear waters provide the perfect backdrop for a relaxing day on a paddleboard.
Boat Hire: Looking for a more leisurely experience? Rent one of their boats and enjoy a peaceful cruise on Loch Lomond, soaking up the breathtaking views and tranquil atmosphere.
Top Reasons to book with Loch Lomond Leisure:
Expertise: Their team of instructors and guides are seasoned professionals who are passionate about what they do. They'll ensure your safety and provide you with all the knowledge you need to enjoy your chosen activity to the fullest.
Equipment: They use only top-of-the-line equipment and maintain it to the highest standards, ensuring your experience is as safe and enjoyable as possible.
Location: Loch Lomond is renowned for its breathtaking beauty and peaceful surroundings. The location provides a serene and natural setting for your adventure, allowing you to connect with nature in a unique way.
Family-Friendly: The activities are suitable for individuals, couples, families, and groups of friends. There is something for everyone, making it the perfect destination for a memorable day out.
Competitive Prices: Experiencing the wonders of Loch Lomond shouldn't break the bank - prices are competitive, and they offer various packages to suit different budgets.
Book Your Adventure Today
Loch Lomond Leisure Watersports is where unforgettable memories are made. Whether you seek an adrenaline rush or a serene escape, the range of water sports and activities on offer caters to all tastes and abilities. Come and experience the magic of Loch Lomond like never before.
Don't miss out on the chance to explore the pristine waters of Loch Lomond. Book your adventure today and get ready for an incredible day of fun and relaxation in one of Scotland's most stunning natural landscapes.
Caledonia Dreaming offers adventures in photo kayaking, escape and explore Loch Lomond in the comfort of their pedal drive kayaks.  You will be able to carry your camera equipment allowing you to take photographs of the stunning landscapes as you move with little effort across the water.  The near silent pedal drive will give you the chance to get close to wildlife, both on land and water.
In Your Element have and outdoor activity for just about everyone, whether a stag or hen weekend, a corporate team building or incentive experience, a school or youth group activity, or some fun with friends or family – look no further,  there are so many outdoor activities on offer that will have you craving more!  They can offer outdoor activities on a tailor-made basis for groups, outdoor activities that are tailored to your exact needs all year round.
For individuals and small groups, they also offer activities on a scheduled basis throughout the summer months at set times on set dates and can be booked online.
Further details about all the activities available locally together with costs can also be provided at the time of booking your stay or you can arrange when you arrive.