Colquhoun's Dinner Menu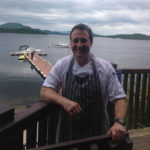 The start of an exciting Food & Dining phase is taking place at The Lodge & Inn on Loch Lomond,  revitalised with the addition of our Food & Beverage Director Johnny Aitken,  our new mantra is to embrace the shimmering aspic of tradition whilst giving the classics just enough back spin to turn heads as they come out of the kitchen.  With an unswerving commitment to quality and light of touch we combine ingredients unleashing a freight train of flavours!!  Book your table today to sample the fantastic Scottish produce now on offer and we can guarantee the best view of stunning Loch Lomond to savour whilst you dine.
Colquhouns Restaurant is one of Scotland's ultimate waterfront dining experiences. Perfectly executed cuisine, memorable service and unrivalled views across Loch Lomond in Luss for the ultimate lodge luxury.

Crisp white table cloths, warm and professional service, unrivalled views across Loch Lomond and of course spectacular food and wine.  Colquhoun's Restaurant by Loch Lomond is the perfect venue for an intimate dinner with someone special, a business discussion over a meal, or a night out with friends.The elegance and sophistication of Colquhoun's Restaurant is defined by a sea of crisp white linen and the most comfortable Italian leather chairs in our more comfortable bar area – an impressive yet stylish contrast.
These distinguishing features combined with outstanding commitment to customer service, present a refined and sophisticated dining experience in a setting and view exclusive to Lodge on Loch Lomond. During the day, the sunlit restaurant offers magnificent views through wonderfully large windows over Loch Lomond and Ben Lomond from Luss. Guests enjoying drinks at dusk on the outdoor terraces will witness the daily ritual of our local wildlife.
Our restaurant is open for dinner Monday to Sunday nights, and bookings are advised.  Find our restaurant dinner menu to your right.  Please note menu and pricing are subject to change without notice.
Colquhoun's Restaurant is a fully licenced venue with an extensive wine and whisky list.
Great food and stunning views…all we ask is that you bring the company for One memorable Loch Lomond Dinner.

We Keep It Flavoursome, We Keep It Simple, We Keep It Seasonal, We Keep It Ever Changing. Come Try Our New Weekly Market Dishes.
View or Download our Latest Dinner Menu:  Click Here
Service is not included in your bill.
For special dietary requirements or allergy information, please speak with our Restaurant Manager. All prices include VAT.
*Supplementary charges apply to some dishes for our Dinner, Bed & Breakfast guests. (DBB). *DBB Guests are entitled to three courses from our Starters, Mains or Desserts. Service is not included in your bill. All customer tips are kept by the staff in full. The hotel does not participate in any aspect of cash tips. For special dietary requirements or allergy information, please ask for our Allergen folder. All prices include VAT at current rate.
If you wish to book a table at Colquhoun's Waterfront Restaurant, please book online below:
Or call on 01436 860 145 to book your table.
Open 7 days a week
Dinner: 6-9.30pm